Every day businesses open their doors for people to stroll in. Most do not add takings to the till.
For the majority of businesses, bricks and mortar or online, prospective customers vanish never to be seen again.
It's safe to say, a lot of these people need what you have but miss the opportunity. Typically they are suffering from information overload, so it's no wonder they can't see the desired product or service right under their nose.
It's our job to help them make the right decision. Call me crazy, but it's called selling. That's what businesses have to do... inform the prospect, make sure it's what they want and need, and lead them to the sale by creating the desire. Then close the sale.
But most of the time it is not as straightforward as we would like it to be. Prospects might need to percolate longer than others. It's important not to let these people slip away.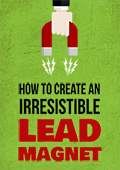 And there are ways to do it. Techniques you can use online and offline to capture their contact information to stay in touch. And once they are ready to buy, you will be at the front of their mind, you will be one of the likely vendors gaining a sale and a customer.
You will be playing like a successful company.
To discover killer bribes you can offer your prospects, Holler.com has released a list of
29 lead magnet techniques
you could use.
Go and see
The Lead Magnet Bible: 29 Killer Bribes To Grow Your Email List
now and play like a profitable and growing business.